Grandiose Paintings Lorberboim's Oils & Soft Pastels at Exhibitions actual and virtual.
Lorberboim independent and noncommercial Painter has many quality paintings in Old Masters style, heritage and tradition in Oil and Soft Pastel. Display exhibitions Lorberboim had organized in pristine public monuments in Jerusalem, as well as virtual exhibitions.
Why? Lorberboim despise all fake commercial tricks that over took the art industry by galleries, museums, curators, etc'. He brings his paintings to the public via this site and Lorberboim private museum established for showing the best of the best paintings. The Lorberboim Times site brings painting stories and all you want to know about the artist is in The Lorberboim Club.
Artnot4sale – Here at this site I also suggests to art lovers ways to establish their own collection or museum and avoid all the fake art pits on their way.
So–read about my unique way to have an exhibition in the most precious place and style detailed in this site.
If you like my paintings and ideas you are more than welcomed to contact me at lorbhaim@gmail.com.
What would you do with 300,000,000 $?
Highest price paid for a single painting. Actually,  much less will do.

Lorberboim's paintings Vs Industry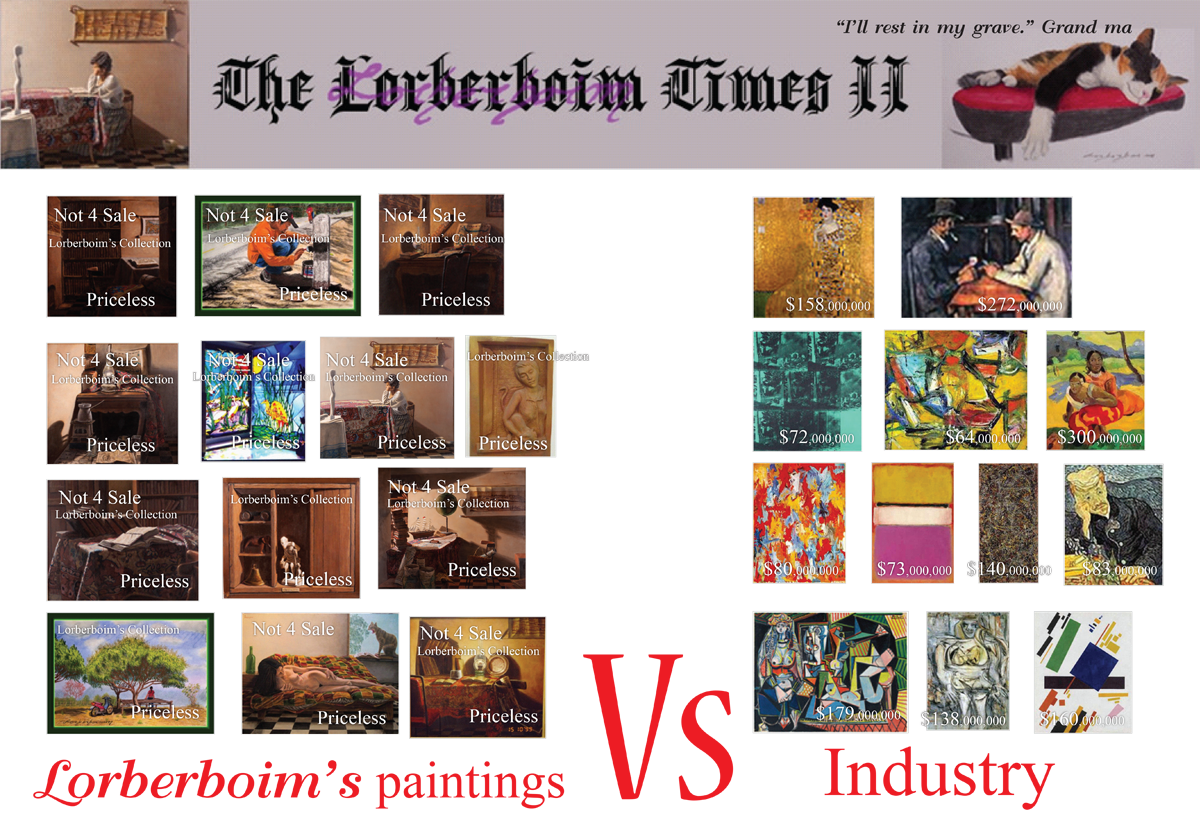 And I'll start with a manifest and plan – Aimed for a Tycoon or  You! –
You can establish your own Museum or Foundation like "The Lorberboim's Art Foundation Collection Museum".
My guideline – Find an attractive place. Jerusalem is excellent.
Build your New art collection, I'd start with buying art strictly straight from artists. Use no Art Advisers, Art Critics, Curators, Dealers, Agents, Galleries, etc.  Just good works of art you like appreciate.    Management – Yourself!
Even modest sum you build reputable Museum or Foundation.
Lorberboim's Exhibitions Arena stands between THE LORBERBOIM MUSEUM and The Lorberboim Times II.
Scroll down for short description on both these sites and URL.
Home of Virtual and Real Exhibitions of Lorberboim's paintings.
I will bring the short story of one Nature Exhibition:
"Porthole to Creation Real" Lorberboim's Paintings Exhibition story on 19 Oct 2018
Commercial galleries and public halls – I wanted to set an alternative option that is preferable in every possible way.
As well as ridicule the ultra stupid fellows of UNESCO.
Hence The happening planned opening of an Exhibition of something new and refreshing at an unusual most prime location and introduce my landscape paintings in situ – in nature hanging mainly on olive trees and not in the Gallery's stale, but have a meeting of friends and art lovers, on a wine glass, the world's most beautiful the scenery and fresh mountain air as wine. The place is overlooking the walls of Jerusalem Tower of King David and the Dormition Church.
Everyone who came was surprised, – Multi surprised – the view, the design of the exhibition and the paintings that hung on mainly olive trees. Much attention has been placed on environment-friendly aspects as you can see.
Another surprise – every visitor who visited the exhibition has received a quality reproduction of a special edition solely produced specially on this occasion of the exhibition, limited edition of 1, printed on the highest quality paper and then I painted over them one more layer.
Another surprise – No one tries to sell you a painting, applying moderate pressure particularly, to purchase the "renowned painter's painter" image, highly praised as an Old masters quality and tradition maintained by lorberboim, and that it is also a great investment. Furthermore, purchase requests were denied even for full price" – I am true to my beliefs.
Yet another surprise – during the exhibition, after drinking fine wine and VSOP Cognac, there were greetings, all the paintings in the exhibition were awarded as token of recognition to friends who encourage me in my doings and forwarding my works over the net and social networks.
.ברוכים לאתר התערוכות של ציורי לורברבוים הן הוירטואליות והן הממשיות
.ציורי לורברבוים הם בסגנון המאסטרים הישנים בעיקר בשמן ובפסטל רך
.הציורים של לורברבוים באתר מוצגים בתערוכות שנערכו במונומנטים ציבוריים ומיוחדים בירושלים ובתערוכות וירטואליות
'.למה? לורברבוים מתעב את כל הטריקים המסחריים המזויפים שכבשו את תעשיית האמנות בגלריות, מוזיאונים, אוצרים וכו'
מביא את ציוריו לציבור באמצעות אתר זה ובמוזיאון פרטי שהוקם על מנת להציג את מיטב מציוריו. האתר לורברבוים טיימס מביא סיפורי ציור וכל מה שאפשר על האמן במתכונת של עיתון בסגנון הישן
– אתר זה גם מציע לאוהבי האמנות דרכים להקים אוסף משלהם או מוזיאון ולהימנע כל מלכודות האמנות המזויפים בדרכם
.קראו על הדרך הייחודית שלי לערוך תערוכה במקום היקר ביותר והסגנון המפורטים באתר זה. בדפיט התערוכות המתייחסים
:אהבת את הציורים והרעיונות שלי? אתה מוזמן ליצור איתי קשר
lorbhaim@gmail.com
לנוח אנוח בקברי", סבתא"
מניפסט ותכנית פעולה – מה תוכל לעשות בתקציב של תמונה אחת ב $300000000
?אתה מסתפק בלקנות ציור אחד
דוגמיות? ראה נא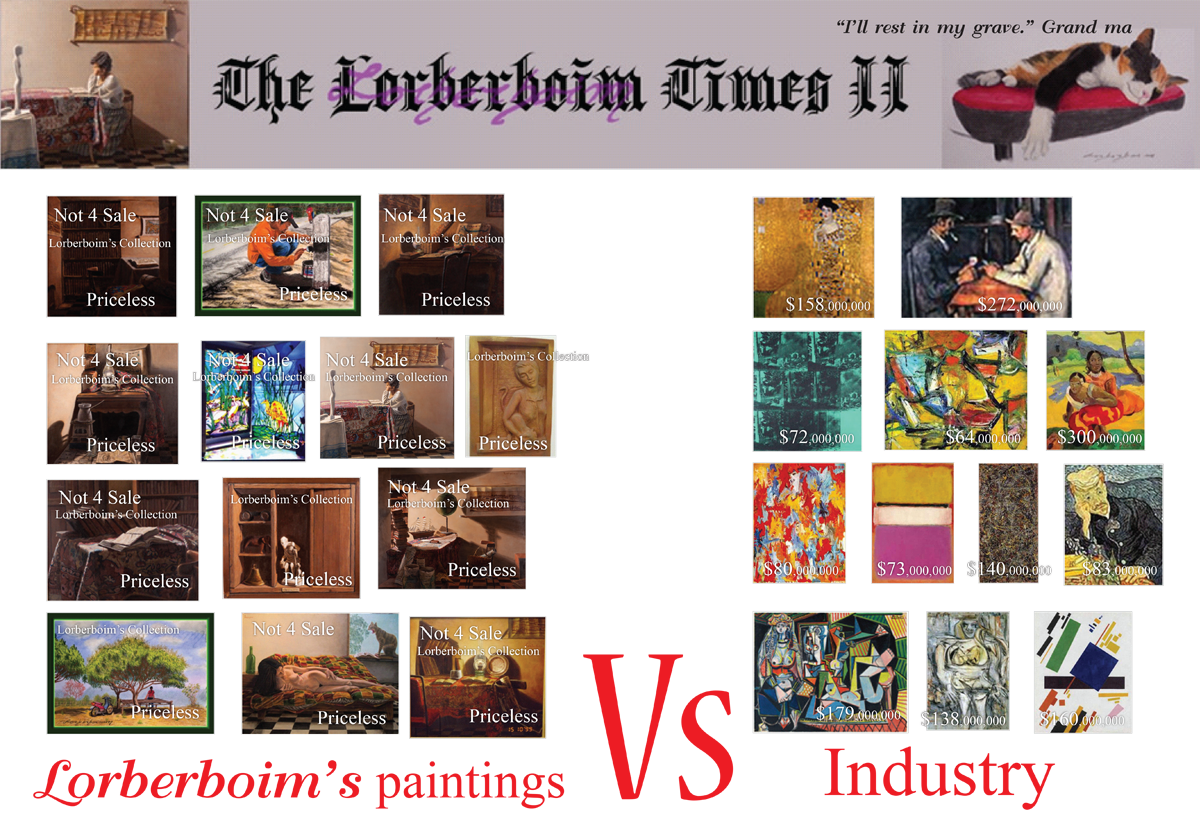 למה? בסכום כזה? אתה יכול להקים מוסד אספני- מוזיאון. כגון
The Lorberboim Art Foundation Collection Museum.
.המיקום, אטרקטיבי, ירושלים הינה מקום מצויין. אך יש מקומות רבים שהמוזיאון "הקים" אותם
עיקר הסכום ייועד לבניית אוסף אמנות, חדשה, מאמנים בתחילת דרכם עם גג של 1000 $ ליצירה – ציור ופיסול בלבד. שום מיצגים, צילום, הדפס וכדומה
.צוות ההנהלה אתה או מטעמך, ללא השכלה בביס לאמנות
.אומנים (לא גלריות) יוזמנו להציע לרכוש עבודות עד 10 לאמן – משמע יוצר העוסק רק בכך
.בתקציב צנוע יחסית תקים אוסף נכבד עם עבודות שיזכה בהערכה והוקרה וחשוב מכל שאתה אוהב
בהצלחה
lorberboim
Lorberboim's paintings
Vs
Industry
?מי אני
צייר נון קונפרומיסטי המאמין בכך שעל התמונה לדבר. חלילה מערך יחסי ציבור שצריך להסביר לציבור הנבער את "יצירותיו". הבז למוסכמות ולממסד האומנותי ומערך המכירות והיחצנות השמן, המנופח והשקרי
?מה האתר
להציג בצד האני מאמין שלי את ציורי ויצירותי ללא רעש רקע. באתר "האח הגדול", תוכלו לקרוא ולראות עוד הרבה חומרים על יצירותי ודרכי –
…..קרא עוד
http://lorberboim.com/ & http://lorberboim.com/about-me/
While The Lorberboim Times II lorberboim.com molded as a traditional newspaper, scope on all Lorberboim's creation – Oil paintings, Mixed Media – Oil on Tempera, Soft Paste, Designing, Sculpture, Viterage/ Stained Glass, Engravings, Lithographs, Screen Prints and Photography. Also, yields scope on Lorberboim's life, work and activities and professions like MBA from the Hebrew University, Printing, Flying, Sailing, Rafting, Exploring, Photographing, Cooking, Geology section maker and Fire Works.
THE LORBERBOIM MUSEUM is my paintings museum displays the best of my paintings of all the times –oil colors and soft pastels shows Interior, Still life, Cats & Tigers, Pandas & monkeys, Children, Figures, Landscapes, and Sepia Portraits.
In my sites at … lorberboim.com/ & https://tlmuseum.com you get my attitude at what's bad in art merchandise industry.
Read and see more… lorberboim.com/ & lorberboim.com/about-me/
And https://tlmuseum.com.
Feel free to send me your comment or to subscribe on my sites.
Select the Exhibition you wish to visit by name bellow or Contact Me
Copyright © 2014 – 2019 by Haim Lorberboim.

All rights reserved. All content or any portion thereof of all my sites
may not be reproduced or used in any manner whatsoever
without the express written permission of Haim Lorberboim
except for the use of brief quotations in a book/press/media review.